If your hospitality business is looking for a new cellar cooling system or has an existing system in place, you should be considering also installing an ambient beer cooler.
What Is An Ambient Beer Cooler?
The J&E Hall ambient beer cooler makes use of any lower outdoor ambient air temperature to cool a pub's beer cellar and provides annual energy savings compared to operating a beer cellar cooling system alone. When the outdoor air temperature falls at least 2C below the temperature set for a cellar cooling system, the ambient cellar cooler uses the colder outdoor air to cool the cellar at a fraction of the conventional cost and is also a "greener" way of cooling beer.
How Do Ambient Beer Coolers Work?
Ambient cellar coolers are linked to your new or existing refrigeration system and work by taking cold air from the outside and using this to cool the beer cellar. Most beer cellars are set to be kept at 10C to 13C and with UK air temperatures between October and April often falling below this range, it provides an opportunity to cool cellars with ambient air.
When the outdoor air temperature drops 2C below the cellar cooler setting, the sensor switches the cellar cooler refrigeration system off and the ambient cellar cooler on. The fan module brings cold air into the cellar to reduce the temperature. If the difference between the outdoor air temperature and the cellar cooler setting is less than 2C, then the refrigeration cellar cooling system will turn back on.
Features & Savings
The J&E Hall ambient cellar cooling system provides annual energy savings to pubs, restaurants and breweries compared to standard refrigeration cellar cooling.
According to Tony Twine, Senior Product Manager at J&E Hall, "it is estimated that up to a quarter of a pub's energy bill can be accounted for by its refrigeration requirements – so publicans and breweries are always looking for a more cost-effective way to cool their beer cellars."
"The J & E Hall ambient beer cooler can save a large proportion of energy costs over a year – a 51% saving (based on UK Met Office weather data). The key to this is the use of free cooling, cold air from outside, a 'greener' way of cooling beers. The J & E Hall ambient beer cooler also contains no refrigerants. This helps reduce servicing costs and extends the life of the main cellar cooling system."
Read: Common Beer Cellar Cooling Faults
Well Worth The Initial Investment
Andrew Pinder, Founder of Pinder Cooling said: "There are a number of reasons why installing an ambient beer cooler is a good idea for any owner or manager of a hospitality business.
"Besides the ongoing cost savings, installing an ambient cellar cooling system prolongs the life of the cellar cooling condensing unit. The J&E Hall ambient beer cooler reduces the amount of time the current cellar cooling system needs to operate to maintain the required temperature by making use of colder outside air meaning you are less likely to require a call out."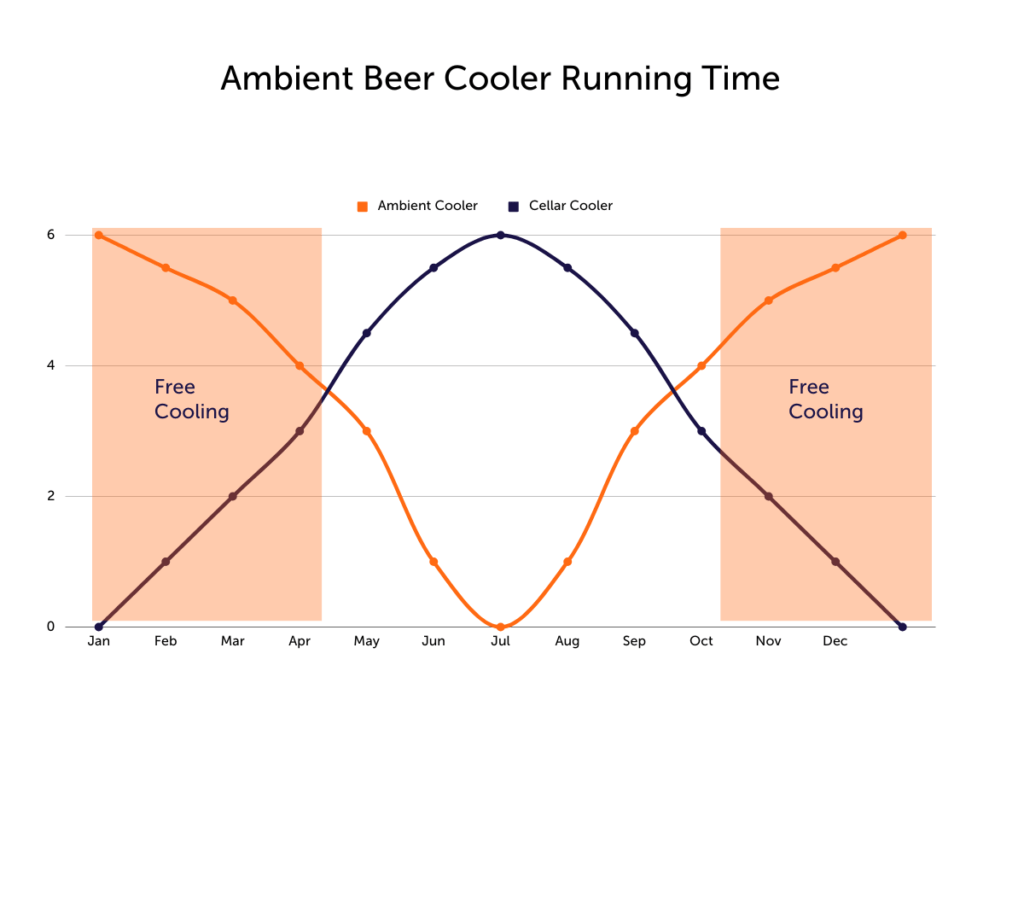 Andrew continued: "My experience of the J&E Hall ambient beer cooler is that it is well worth the initial investment, especially with the current cost of energy. They're much more energy efficient than traditional cellar cooling alone and can fit with any make and model. If you can't change the cellar cooling system, install one of these."
J&E Hall Ambient Beer Cooler – Specification
Unit weight: 12kgs
Supply voltage: 230/1/50
Suggested Fuse Rating: 6A
Height: 484mm
Width: 349mm
Depth:381mm
Includes:
Fresh air entry duct (rear or base)

Ambient air temperature sensor

Cellar temperature sensor

Washable air filter

2m mains lead

Instruction manual

Installation kit also available
For more information about installing J&E Hall's ambient beer cooler, contact us.