Inhibiting a wide range of bacteria, viruses and odours, Panasonic nanoe™X provides excellent air quality throughout commercial and residential buildings.
Maximise the freshness of your environment with the latest in air purification technology.
We believe high air quality should be the standard. The powerful ionising system generates at least 10 times more OH radicals than nanoe™, eliminating stubborn odours and blocking unwanted bacteria, viruses, and allergens. Say goodbye to the dry skin of systems of the past; this water-originated technology keeps skin moisturised and refreshed. Smaller than steam particles, the nanoe™X particles penetrate deeply into fibres, allowing for highly effective results.
Third-party studies in Germany, France, Denmark, Japan, and Malaysia have validated that nanoe™X removes up to 99% of some types of bacteria. In fact over 240 test reports show the effectiveness of nanoe™X.
Panasonic Pro Partners
Being a Panasonic Pro partner means that we are able to offer extended warranties on all Panasonic air conditioners ordered through us. It also means that our engineers have to keep up to date with Panasonic systems and are regularly trained and tested face-to-face to ensure that standards remain high.
How nanoe™X Works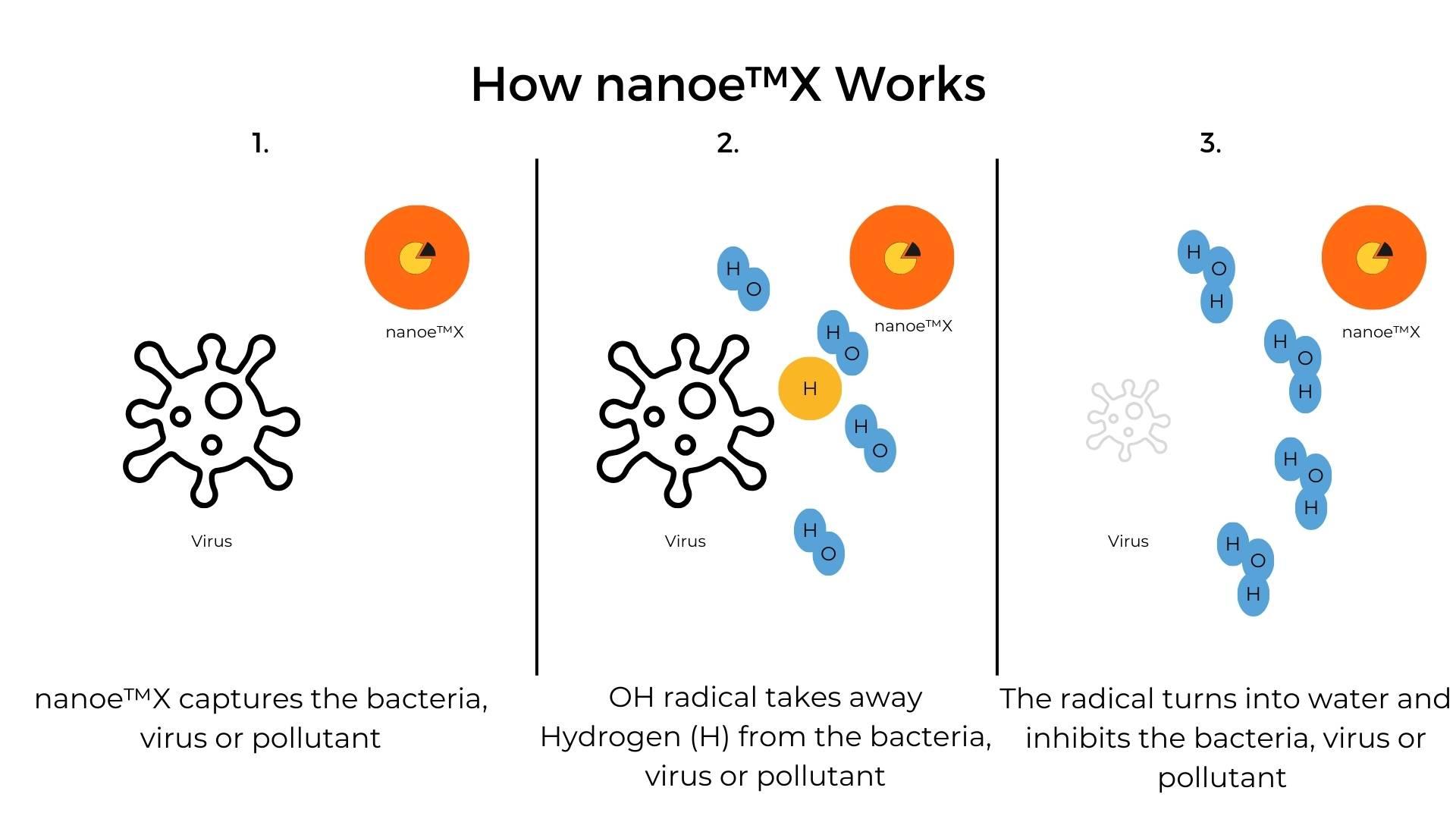 Panasonic nanoe™X technology is an air purification technique that uses Hydroxyl Radicals (OH Radicals) to inhibit viruses and the growth of harmful substances in the air. Hydroxyl Radicals are highly reactive molecules that can break down and neutralise bacteria, viruses, allergens, odours and hazardous substances, such as chemical particles.
nanoe™X works to collect invisible moisture and apply a high-voltage to it to produce Hydroxyl Radicals. These nano-sized water particles contain a high concentration of OH Radicals. nanoe™X releases these particles into the air, where they can penetrate even tightly woven fabrics and reach pollutants on hard surfaces. The Hydroxyl Radicals then react with the pollutants, breaking them down and neutralising their harmful effects.
Benefits of Hydroxyl Radicals
Plentiful in nature, OH Radicals have the capacity to inhibit odours, viruses and pollutants. nanoe™X brings nature's balance indoors using a naturally occurring process.
Hydroxyl Radicals are unstable molecules that react with elements and capture hydrogen. When the Radicals react with viruses and pollutants it captures their hydrogen, breaks them down and neutralises their effects.
In nature, Hydroxyl Radicals last less than one second, but by creating Radicals contained in water, nanoe™X technology can increase their lifetime to 10 minutes, making them much more effective at combating pollutants.
Here is how we helped take two holiday rentals to the next level with Panasonic's Etherea with nanoe™X Generator Mark III.
Key Features & Benefits Of Panasonic nanoe™X Air Conditioner
The key features of the Panasonic Etherea with nanoe™X include:
nanoe™X technology developed by Panasonic
Advanced cooling and heating performance, as well as quiet operation
Sleek and stylish design
Intelligent features such as Econavi, which automatically adjusts the settings to save energy, and Aerowings 2.0, which provides even airflow throughout the room
The Etherea is easy to use, with a simple and intuitive remote control
Built-in Wi-Fi: The Etherea has built-in Wi-Fi, so you can control it using the Panasonic Comfort Cloud app from anywhere in the world
Compatible with Google Assistant and Amazon Alexa
In addition to these key features, the Panasonic Etherea with nanoe™X also offers a number of other benefits, such as:
Energy efficient
The Etherea's durable construction and comprehensive warranty ensure that it will last
Easy installation and maintenance
Effectively blocks over 10 types of pollen

Inhibits common allergens such as household pets, moulds and other pollutants, improving air quality for people with allergies and asthma

Protects from airborne bacteria and viruses, reducing the risk of respiratory infections

Eliminates common household odours

Moisturises skin and hair