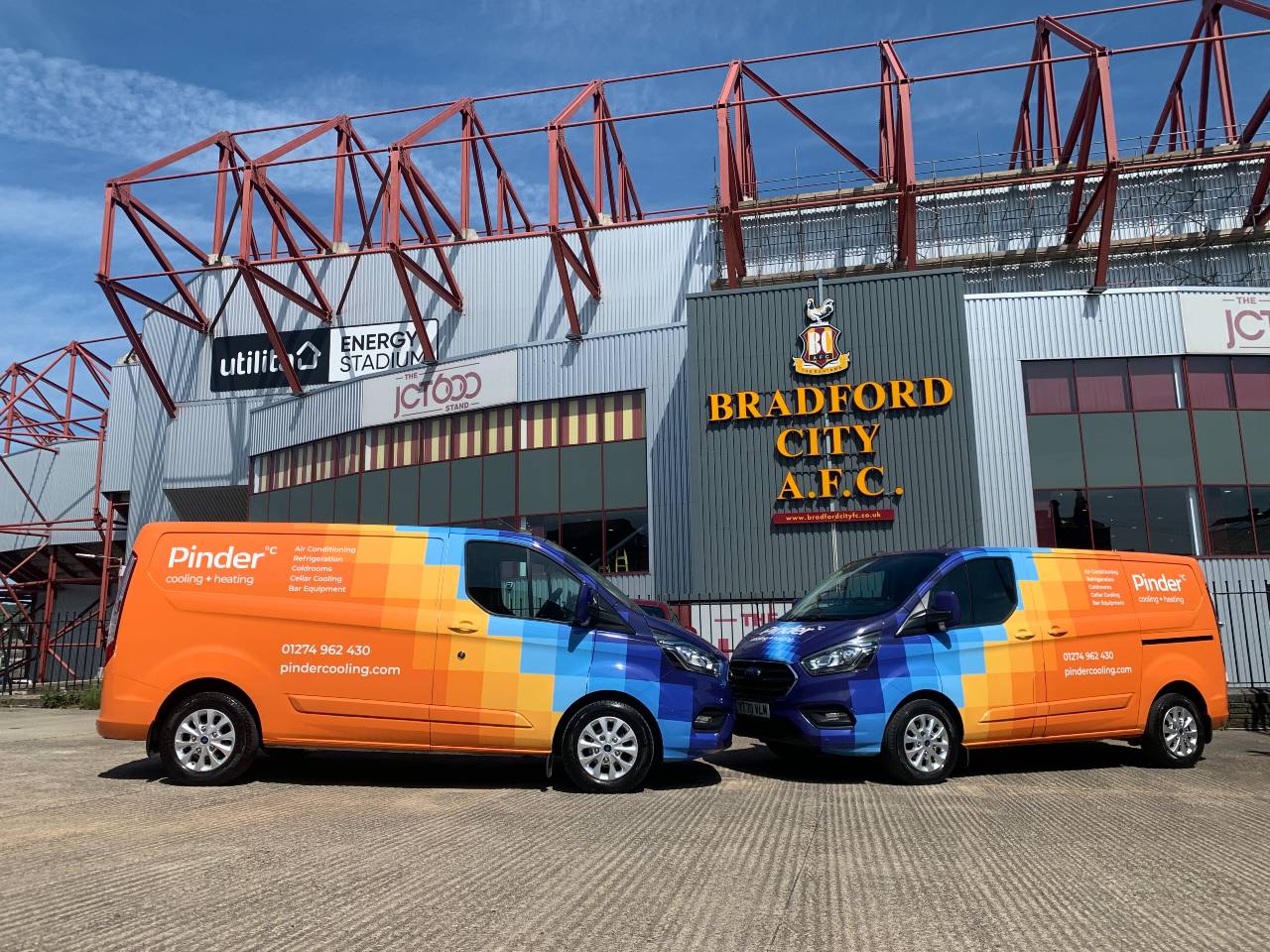 We're delighted to announce our appointment by Bradford City FC to support the renovation of their function suites.
After being personally invited to quote, we are to install new cellar cooling systems at the Utilita Energy Stadium to prepare for the club's new pouring rights partner.
The contract win is thanks to newly established relationships with the Bantams' maintenance team and increased awareness of our excellent service.
Bradford City AFC is currently undergoing a major refurbishment to their banqueting suites, with the intention to make improvements in their hospitality and banqueting suites in The JCT600 Family Stand.
Recognising the importance of the right cooling equipment, the maintenance team sought help from a credible and experienced firm of cooling and heating engineers.
In the bars at levels 1 & 2, our experts will install two J&E Hall Cellar Cooling Systems (JCC50E), both of which will be supplied by national refrigeration and air conditioning wholesale specialists, FSW.
"We Are Able To Provide An All-round Better Product"
Davide Longo, commercial director at Bradford City AFC, said: "We would like to thank our friends at Pinder Cooling & Heating for their commitment to the work in our hospitality suites.
"Over the past six months, ensuring we are able to provide an all-round better product, both on and off the field, has been high on our list of priorities.
"One of the biggest areas of this was to address the situation in our hospitality and banqueting suites, focusing on how we can serve a better, colder beverage to supporters on matchdays and when hosting events.
"The help of Andrew and his hard-working team has enabled us to take forward steps in this regard, and have a good, quality offering in our suites which we can be pleased with."
Pinder Cooling & Heating has been providing HVAC services and installations to clients across the UK since its founding in 2016.
Our specialist services include the installation of and maintenance associated with commercial refrigeration, air conditioning, server room cooling, cellar cooling, cold rooms, and bar and restaurant equipment.
In recent years, especially since the COVID-19 pandemic hit, we have witnessed an increase in demand for the maintenance of air conditioning units and new cooling systems within the hospitality sector.
Lockdown Has Caused A Number Of Issues For Hospitality Businesses' Equipment
Andrew Pinder, founder and director at Pinder Cooling & Heating said: "With the recent lockdown, a lot of hospitality businesses have had to close and turn off their equipment. This has caused a number of issues but with the roadmap so uncertain, businesses are quite rightly reluctant to invest in new equipment.
"With Bradford City undergoing a renovation, they recognised the importance of having new refrigeration systems installed and this will set them ahead. With them opting for the maintenance service, we can work alongside them to ensure any of the future problems that many are facing as we begin to reopen the economy, are limited.
"Our entire team is delighted to be working with such a credible organisation and one which gives so much back to the community. As a Bradford firm operating across the UK, we still like to work with and support those in our region, so the Bradford City contract means a lot to us."
Take our Air Conditioning or Commercial Refrigeration Healthcheck to see how healthy your equipment is, and to see if it's due a maintenance check.
See Where The Story Was Featured