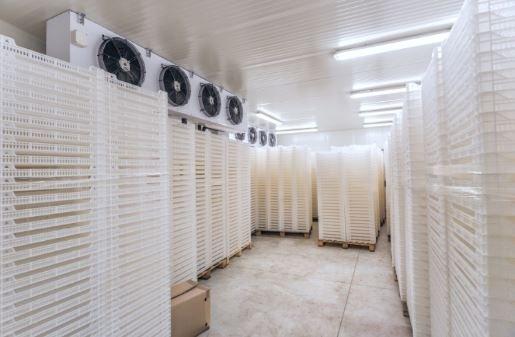 Cold rooms are similar to refrigerators but on a much larger scale. For this reason, they are often named walk-in refrigerators. They use cooling units to reduce the temperature within the insulated room. This insulation is extremely important, as it prevents heat from the surrounding spaces from entering the cold room and causing more electricity to be used.
When choosing the perfect cold room installation for your restaurant or store, you need to consider a few things before buying.
How Big Is It?
The size of the cold room is determined by your own needs and the available space. Calculate how much cold or frozen product goes through your business in a week and then calculate how much space that takes up. From there, you can determine the size of the cold room you need. Keep in mind that the height of the room is all usable, so if you have high ceilings, you may add more space to the room.
How Cold is Cold?
You have two choices when it comes to a cold room. You can either have sub-zero or refrigerator temperatures. It all depends on what you need to store.
Fruits and vegetables require cool storage, of no lower than 5° C. Meat, seafood, and dairy products should be kept at 5° C or lower, but above freezing. A sub-zero storage room is essentially a freezer and is best for longer term storage of items that need to be kept fresh over time.
Depending on how much of each type of product you have, you may need two different cold rooms, one for each temperature level. However, if you have just a little amount of product that requires freezing, you could use a smaller freezer and leave the cold room for fruits, vegetables, meats, and seafood.
How Much Electricity is Used?
Another concern is the amount of power it requires to maintain a cold room. Cold storage tends to use 380v electricity, which is not always available everywhere. It's also a good idea to have the room wired in early in the line, to avoid it losing power to other appliances. Any time the power is out, your cold storage is compromised and the food inside may end up spoiled.
Is It Properly Ventilated?
In order to keep products fresh, you need to have proper ventilation. Without it, you'll find that your cold room soon begins to smell off. Even one product that has an odd smell can taint everything else if you aren't careful.
Proper ventilation requires space and a place to vent the used air, but it shall make your food last longer and taste better. There will be no stale refrigerator flavour lingering.
Contact Pinder Cooling for more information on cold room installation and cold storage.