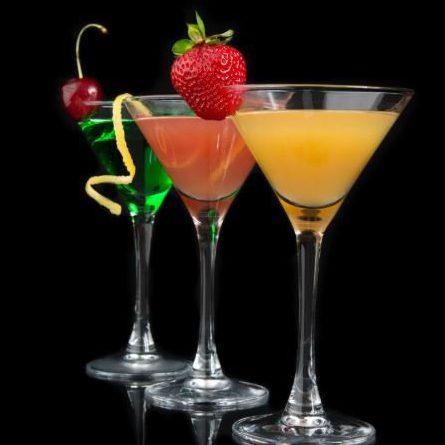 Working in a bar can be a great learning experience. Whether you're new to the industry or are a seasoned bartender, there is a lot more to the job than simply pulling pints. For those working in the pub and bar industry, being able to make a quality cocktail is what really separates the wheat from the chaff.
Of course, you don't need to be juggling full bottles of vodka and tequila to be able to make a great tasting cocktail, however, if you're looking to take your bartending to the next level, here are four of the most iconic drinks you should know how to make.
Martini
A true classic, evoking images of Bond and fancy nights out, martinis are still one of the most ordered cocktails in bars around the world. However, the cocktail that most people are talking about when ordering a martini is the 'dry' version, made with two parts gin and one part dry vermouth.
Pour both ingredients into a mixing glass over ice and stir well. Double strain into the iconic martini glass, squeeze the oil of a lemon peel over the top of the glass to add a citrus aroma and garnish with an expressed lemon peel or a single olive.
Long Island Iced Tea
Customers looking for bang for their buck will invariably order this iconic cocktail due to the simple fact that it's got a whopping five different alcohols mixed up in the glass. Despite the name, a Long Island Iced Tea doesn't actually contain any tea and is instead made up of equal parts vodka, rum, tequila, gin and triple sec.
You'll need to put all of these into a shaker along with equal parts lemon juice and gomme and shake well. Strain over ice into a hurricane glass and top with cola.
Mojito
A traditional Cuban party drink that acts as the perfect refreshing accompaniment on a hot summer's day, the mojito is one of the more popular drinks a bartender will make during the warmer months.
While the simplicity of the drink makes it a great one to experiment with, the tried and tested original is made up of mint and lime, which has been muddled in a mixing glass, sugar, and a shot of white rum, strained over a collins glass and topped with soda water.
Old Fashioned
As one of the oldest cocktails to come from the US, this robust whisky-based drink is enjoyed by cocktail connoisseurs everywhere, making it a must-have on your cocktail list.
What makes the Old Fashioned so memorable is its use of strong, yet simplistic ingredients. Start by placing a sugar cube in an old fashioned glass and saturating it with a couple dashes of angostura bitters and a splash of water.
Muddle the mix until dissolved, fill the glass with ice and pour in two shots of classic rye whiskey. Finally, garnish with an orange slice and cocktail cherry to add an aromatic touch.
Keep your ingredients fresh with a bottle fridge from Pinder Cooling
While knowing your cocktails is useful, you also need the right tools and equipment to keep your ingredients fresh and full of flavour. With quality bar equipment solutions from Pinder Cooling, you can preserve your perishables and keep the bottles you need nice and cold.
For more information on how our team can help, get in touch with our team today on 01274 962 430.